Holiday Camps
Looking for fun science holiday camps and programs for the kids? Take advantage of the upcoming November-December school holidays to introduce your child to STEM! From November 19-December 21, we're offering some of our most popular programs as 2-3 day STEM camps.
EMBARK YOUR CHILD ON A SCIENCE & ENGINEERING ADVENTURE!
In Whizz, Pop, Bang!, Once Upon a Time and SuperHero Science, rich science content is combined with electrifying tinkering projects and exciting hands-on experiments that promise ooey-gooey, fizzy fun! Kids love these action-packed programs and keep coming back for more!
HAVE ASPIRING DETECTIVES, ASTRONAUTS OR ARCHAEOLOGISTS AT HOME? LAUNCH THEM ON A JOURNEY OF DISCOVERY WITH JUNIOR CSI, SPACE CAMP, DINO DISCOVERY AND SECRETS OF THE LOST TOMB!
In
Junior CSI,
kids will try their hand at scientific crime-solving and learn all about fingerprinting, DNA and heredity, forensic chemistry, eyewitness testimony and more! CSIs will have a blast as they explore dominant and recessive genes (with monster genetics!), try their hand at lifting fingerprints (it's not as easy as on TV!), and apply their newfound forensic chemistry skills to identify mysterious substances and decipher hidden messages!
For junior paleontologists, go on a prehistoric adventure with Dinosaur Discovery! Kids will explore the wonders of prehistoric life with hands-on science and art activities that promise learning, discovery and fun! They'll even get a chance to see and feel real Cretaceous fossils from our permanent collection! Or launch young astronauts and astronomers on a space adventure with Space Camp! Kids will learn all about Earth and our solar system, and explore the forces of aerodynamics…with rockets!
Finally, in Secrets of the Lost Tomb, young archaeologists will lead an expedition to ancient Egypt, and learn to decipher hieroglyphics as they discover the science behind mummification, excavate for gemstones, and engineer a pyramid escape!
For young techies, introduce them to the exciting world of digital photography, stop motion animation and 3D printing with Snap! Shutterbugs, Lego Animation Adventures & MakerLab: 3D. In Snap! Shutterbugs, young photographers will learn composition techniques like the Rule of Thirds and Leading Lines to instantly improve their shots, and will go on a guided photo walk to apply these techniques with confidence! In Lego Animation, young film-makers will go behind the scenes and learn every part of the film-making process, from storyboarding and set-making, to production and video editing. And in MakerLab: 3D, kids will take on the role of industrial designers, and learn to bring their ideas to life with TinkerCAD and MakerBot Replicator 3D printers. In all of these programs, kids will delight in learning new life-long skills that unleash their creativity!
More camps are available - too many to list here! For our full camp brochure, call 6931 6989, 9168 6669 or email info@kidsdiscoveryworks.com today! To register, click the ``Register Now`` button below!
– Registration fee waived –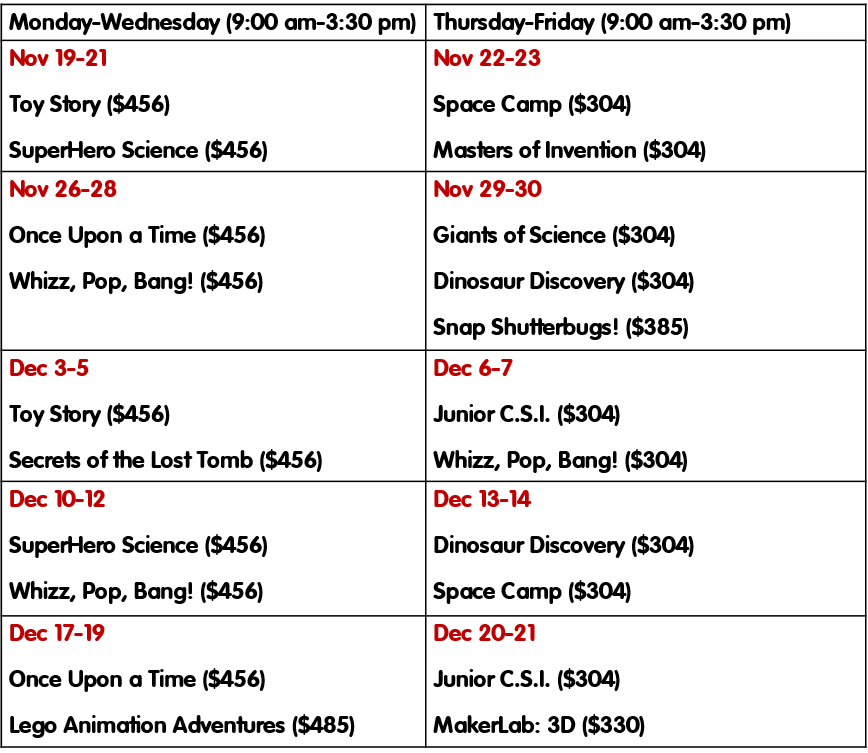 For sign ups of 5 days: 20% discount.
Lunch, healthy snacks and all materials will be provided for full-day campers.